take a walk along the yellow brick road
We took a few pictures before our junk got in the way, but i took most of these today. So here is my first real post and your very own virtual tour of our new house for those of you who like details.
The house looks different depending on the time of day. Also, the picture on the left was taken last winter, so you can see the yard is much greener now. All those leaves will be fun to clean up in fall :).
We had this "
BRIGHT
" idea of painting the door a terracotta-ish color... somehow it turned out Gator orange, but the newly painted house numbers and kickplate look much better than before. We'll see if the door color gets adjusted... I just painted it today.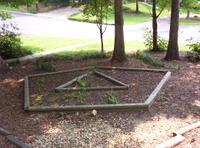 One other interesting characteristic of the exterior, before we start our tour, is what i like to call "The Shrine". I don't know who or why, but this is not going to work.... I especially like the one weed growing from the center.
Walking up to the house from the sidewalk.
This is what you see when you walk into the door. Its a long hallway and then you see the underside of the open staircase at the end.
To the left.
To the right. This is the living room.
Living room view from the dining room.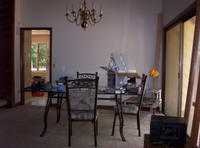 Dining room view from the living room.
Deck off the dining room.
Kitchen.
Sliding glass door off of kitchen, tons of tools.
Deck off Kitchen, and the driveway.
Deck off the kitchen.
I think this is supposed to be a fence in the backyard.. it's eventually gotta go.
Stairs to the master suite. Ooh La la.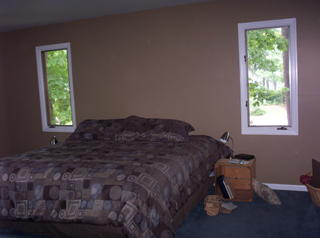 Crooked picture of the master bedroom.
View of "The Shrine" from the master.
Master Bath, who knew wallpaper would be THIS rough.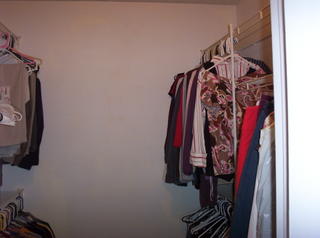 Master Closet
Master Copper Shower...
Master Deck
Master Walk-in Attic Access with a finished floor... this is so HANDY!
Headed back downstairs
Entry to two downstairs bedrooms and bath.
Downstairs Bath.. this has been the most "finished" room from the start. Believe it or not that's textured wallpaper... and it's gonna stay... for now :).
Guest Bedroom. This will get tackled next. Gotta love the "
vintage
" ceiling fan.
Jason's Office... yes.. that's him working. Don't worry he has shorts on.
That's all for now. To check out the previous pictures go to :

http://www.amesnjas.com/ourhouse
and
http://amesnjas.com/08_2005_newhouse.php